Co-op Details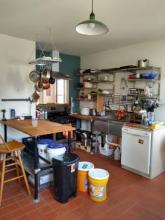 Basic Info:
We are a housing cooperative in the West End of Providence, near Dexter Park and the Cranston Armory. We are incorporated as a RI nonprofit — the Wood Street Cooperative — and we are working toward transferring ownership of the property to the nonprofit. Currently two of our residents/members own the house. They bought the 3 unit property in 2017 in hopes of building a cooperative/fostering a development of autonomy of space that results in legal cooperative ownership.
We practice a model of labor sharing and would expect members to buy into this model! This looks like:
-Buying vegetarian food cooperatively, sourcing local food
-Cooking/cleaning for house dinner several times per week (~2 hrs/week)
-House job (~1 hr/week)
-Communal dinners five nights per week
-Open communication, weekly house meetings, and making decisions by consensus (~1.5 hrs/week)
-Collective work on house projects (ranging from home improvement/construction projects to gardening to budgeting & planning for the long-term sustainability of the Cooperative, and lots more!)
-Welcoming of visitors
We share two kitchens and various common spaces. We have a washer/dryer in the basement and a great backyard. We grow a small portion of our own food and our garden is always growing.
Our mission as Wood St Cooperative is to create a cooperative living home and community space in the West End of Providence, Rhode Island. We practice collective autonomy over our physical space and cooperative decision-making. We build social and economic agency and provide access to affordable, high-quality housing and food by sharing and preparing meals and the caring for the daily and long-term maintenance of our house. We are learning to live differently with each other -- we are redefining the idea of "home." This is a place-based project that aims to engage local participation, provide an open community space for gathering, and break down barriers that seek to isolate us.
Mission Statement:
The Wood St Co op is a creative place based project that provides affordable and high quality housing and food while engaging local participation and creating inclusive gathering pace in order to build community around shared food and cooperative housing.
Purpose Statement: Wood St Cooperative is a housing cooperative in the West End of Providence RI.
Type of Housing Offered:
Single rooms
Wheelchair Accessible:
No
Approximate Monthly Rent Including Utilities:
We offer sliding scale between $440-$540/month. Two people pay an additional $150 to share a room. Winter utilities can add $80.
Approximate Monthly Cost of Meal Plan if Applicable:
$120 - all meals and snacks, tp, small shared infrastructure, cleaning supplies, garden supplies.
Labor Requirements:
HOUSE JOBS
House jobs encompass the labor required for the house to stay clean, maintained, and well-stocked. Each resident is expected to have a house job and house jobs are allocated with the intent to evenly distribute labor. Complete descriptions of house job requirements are subject to change and can be found in the "Chores" document.
Shopping (2 people)
Treasury
Bathrooms
Kitchen 1
Kitchen 2
Stuffmaking
Life and Death
Board positions
FOOD COOPERATIVE
The food cooperative encompasses both resident and nonresident members and includes the labor required to provide dinner five nights per week. Total number of tasks (2 cooking and 2 cleaning 5x/week) will be divided among total membership (resident and nonresident). Regardless of categories of membership every member participates equally in the labor sharing of the food cooperative.
Shared Amenities:
Communal spaces, Shared kitchen, Garden, Workshop, Shared tools, Recreational area, Parking, Bike storage, Washer and dryer, Wireless internet
Frequency of Shared Meals:
5-6 nights/week