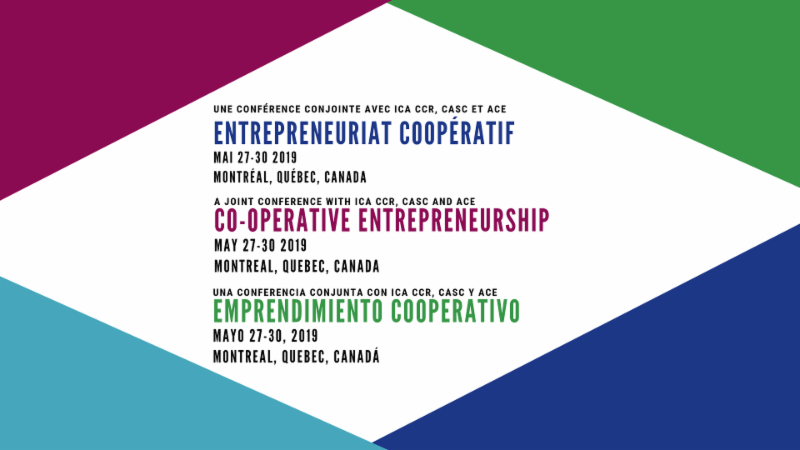 Date:
Monday, May 27, 2019

to

Thursday, May 30, 2019
About the Conference
The Association of Cooperative Educators (ACE), the International Co-operative Alliance Committee on Co-operative Research (ICA CCR) and the Canadian Association for Studies in Co-operation (CASC) are pleased to invite you to their 2019 Conference Co-operative Entrepreneurship!
This year,  ACE, ICA CCR and CASC have joined forces to bring this exciting conference. It is the only annual conference in North America dedicated solely to the promotion of cooperative education, to the training of all cooperators (educators, leaders, developers, learners, etc.) and to academic research. It is a unique learning and professional development opportunity for 150-200 cooperators from all cooperative sectors and across national boundaries.
Program
Key themes this year are cooperative ethics and values in entrepreneurship, co-op management, co-op conversions and succession planning, cooperative differentiated management of people, performance measurement, sustainable development, Millennials and cooperatives, the motivations and leadership of co-op entrepreneurs, co-op friendly policies and public institutions, etc.
Our complete program will be availble early May. It is structured as follows: 
- Monday: Youth Programming and Opening Reception in the Evening.
- Tuesday and Wednesday: Conference. Banquet on Wednesday Evening.
- Thursday: Mobile Learning Sessions, also known as Co-op Tours. AGMs will also be held on Thursday.
Locations
The main location of this year's conference is the University of Sherbrooke, Longueuil campus (Montreal). Please note that this is not in Sherbrooke (Quebec) but in the outskirts of Montreal, in the City of Longueuil. 
The opening reception will take place at the Co-op Katacombes (Saint-Laurent subway station) on May 27, 2019 from 5:30 p.m. to 8 p.m. Light snacks will be served. 
The banquet will take place at the Institut de tourisme et d'hôtellerie du Québec (ITHQ - Sherbrooke subway station) on May 29, 2019 from 7 p.m. to 10 p.m. A top-quality four course meal will be served, the ITHQ being an extremely well renowned institution in Montreal. 
Buses have been booked for the mobile learning sessions. They will depart from the conference's main location. N.B. Subway trips between conference locations remain at the charge of the participants.
Travel plansSeveral options are available and for all budgets. The options can be found on the left side of your screen. Please note that you must make your own arrangements. Registration does not include accommodation.
We recommend that participants arrive on May 27th in the early afternoon at the latest and leave on May 31st at the earliest. Youth participants are asked to arrive on May 26th to attend the Youth Programming on the 27th, and leave on May 31st at the earliest. 
Youth Participation
Full registrations are priced at CAD $100 for people under the age of 35. Young scholars are also eligible for the discount (students or researchers up to 2 years after graduation). Please send a scanned copy of a piece of ID or proof of status to info@ace.coop. 
Financial Support 
a) Scholarships may be available thanks to the support of the Ralph K. Morris Foundation. Please visit their website to learn more and to submit an application.
b) Conference travel funds are available from the SSHRC and the Ian MacPherson Fund. Information that must be supplied:
Name: 
Status: student, professional, academic, retiree
Organization:
Approximate cost of travelling to the conference from your personal address:
Please submit this one page application to congrescoop2019.eg@usherbrooke.ca  with the subject line "Conference Funding".
À bientôt in Montreal! Please do not hesitate to contact us if you have any questions about the conference. We look forward to seeing you!
Link to event's main page: