Over 400 participants will converge on Ann Arbor, Michigan from November 10th through 12th, 2017 to share ideas, learn new skills, and look at issues affecting the cooperative movement worldwide.
Since 1977, NASCO's Cooperative Education & Training Institute has been widely recognized as one of the most important training and networking opportunities available to members, directors, staff and managers of group-equity cooperatives.
The annual NASCO Institute is always a one-of-a-kind opportunity to network with hundreds of cooperative leaders and employers, to caucus about pressing issues, and to work on building an inclusive and accessible cooperative movement.
---
Breaking the Mold: Grassroots Cooperation
This year's conference theme focuses on the integral role of cooperatives in building grassroots democracy. In a time when our voices do not feel heard on the national scale, our power lies in our local co-operation.
Innovative projects are gaining traction where co-ops are building regional power through inter-cooperation across the country. More than ten cities have gained municipal funding and support through the strength of local organizing and national networks. Boulder, Minneapolis and Austin are only a few who have gained support by calling on their city council. In Philadelphia when cooperatives came before city council to testify the room was packed with members from the food co-op, residents of local housing cooperatives, workers from child care cooperatives in NYC and Workers from a local construction co-op. When cooperatives support each other our voices and power are amplified. When we reach outside of our cooperatives we need to think how co-ops as organizations can leverage their assets (people, space, funds) to support allied movements for justice.
"Grassroots Cooperation" means building democracy and exploring the ways that individual co-op members develop skills through practicing and experimenting with direct democracy. This experimentation builds robust democratic participation. Cooperatives embrace democracy as neither a structure nor a system— but as a dynamic process that empowers individuals to change the world around them.
This year's Institute focuses on taking our local resources, our space, our people power and supporting movements for meaningful economic and political change that puts the power in the hands of the people.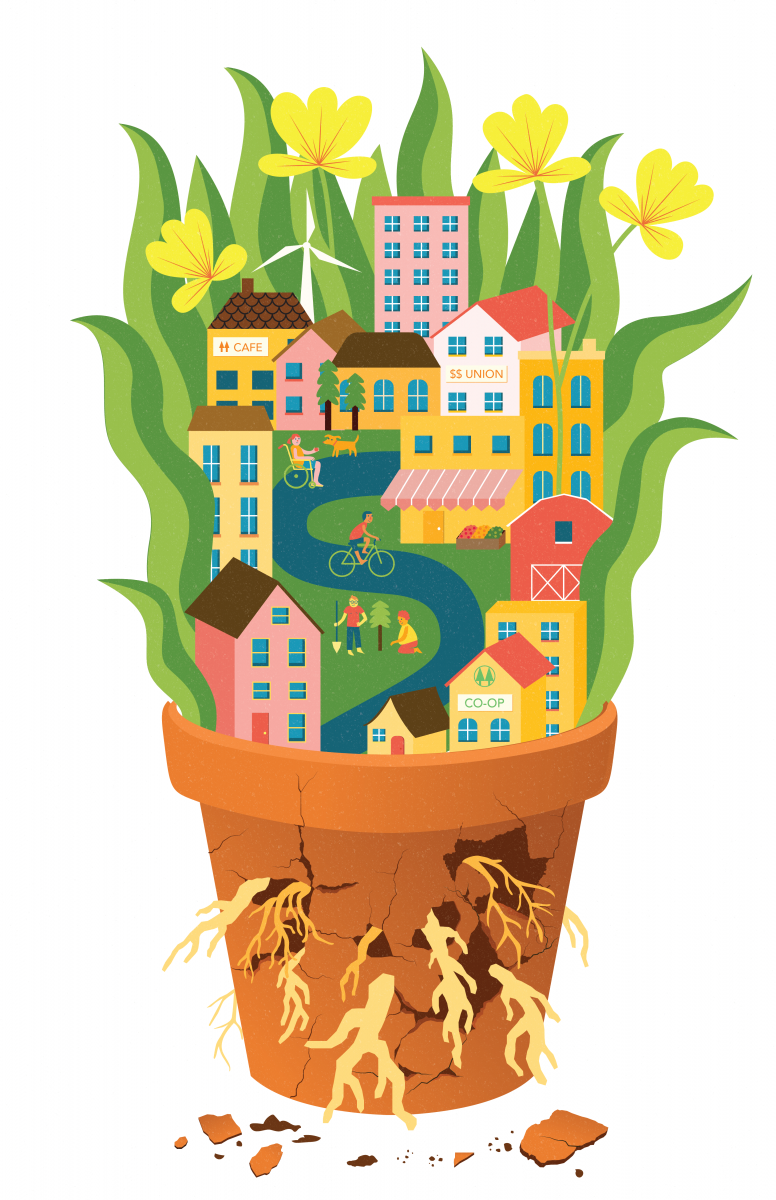 This year's artwork illustrates the sheer power of cooperatives supporting each other. When we rise and thrive together, we can break the mold and grow robust and inclusive democratic communities.
Netta Schwarz is a freelance designer/illustrator and student in the Bay Area. She has lived in co-ops for the past three years– currently as a member of the Berkeley Student Cooperative (Casa Zimbabwe) and can't imagine life without chickens or nut yeast.
---
If you have any questions about NASCO Institute, please contact institute@nasco.coop.