Co-op Details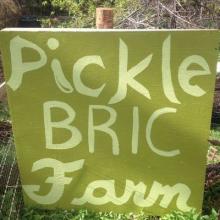 Basic Info:
In 2013, our founders (Steve & Emily) rented a big house together, and filled it with interesting people, as Emily recovered from ovarian cancer, and they came to terms with the fact that they would never have a biological family. Instead, they decided to create a chosen family. The house is "historically Jewish" and hosts relatively non-religious Shabbat dinners about once a month. The community has a big focus on food systems, salvaging & preservation -- whether that's dumpstering, collecting local apples when there's a glut, or receiving excess food from events on campus. We've also always had a vegetable garden. Sharing housing is illegal in Boulder, so for the first 3+ years of our existence, we lived partially in hiding, without much of a public face. As the movement to legalize shared households locally gathered steam and got media coverage, we ended up participating pretty deeply in the political process. Unfortunately, neighbors we thought were friendly were only comfortable with the house so long as it was illegal, and they could have us removed at will. When it became clear that we might end up legitimate, they found our existence unacceptable. As a result, we lost our original house -- they threatened our first landlord with lawsuits and harassment, and eventually he decided not to re-sign the lease (after 4 years of trouble-free tenancy). At the last minute, we found another house 3 blocks away, and stayed in the neighborhood, moving together.
Mission Statement:
We seek to discover, test, and nurture the potential of communal living by cultivating a home that is nourishing, cooperative, and affordable. By focusing on consensus-based decision-making, skill and resource sharing, communication, and friendship, we aim to live more thoughtfully and joyfully, maximizing our potential and minimizing our carbon footprint.
Type of Housing Offered:
Single rooms, Double rooms
Wheelchair Accessible:
No
Approximate Monthly Rent Including Utilities:
$450-650
Approximate Monthly Cost of Meal Plan if Applicable:
$50
Labor Requirements:
We have three categories of labor -- "leadership roles" that are persistent long-term responsibilities (like accounting, bulk food buying, etc.), weekly chores (like sweeping, cleaning the kitchen floor, shoveling snow), and food prep/cleanup/acquisition (cooking shared meals, dumpstering, milking goats, CSA pickup...). Including a 1 hour house meeting each week, members are expected to put in about 7 hours a week of labor.
Shared Amenities:
Communal spaces, Shared kitchen, Garden, Shared tools, Bike storage, Washer and dryer, Wireless internet, Other
Frequency of Shared Meals:
Approximately all meals