Co-op Details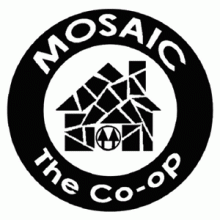 Basic Info:
History:
The idea to start a co-op at Northwestern was conceived by a small group of friends in 1997, who were frustrated by the lack of an off-campus community at NU. Using a handbook downloaded from the Internet, the group recruited others to join their endeavor for "constructive inspiration, empowerment, and environmental conservation". A house at 2013-2015 Ridge Avenue was founded, and in September of 1998, the first 12 co-op members moved in and began to organize a system by which to run the house.
After a year of trial and error, the co-op was running successfully and ready to welcome new members for the following year. Membership grew steadily, prompting MOSAIC in 2002-2003 to expand to its first apartment, which was maintained as an extension of the main house until summer 2003. The last year at the Ridge location housed just under 30 co-opers from 2003-2004.
MOSAIC relocated to our current 13-person house at 2000 Sherman Avenue, now known as the Zooo, in June of 2004. For more than 12 years the Zooo has anchored MOSAIC, providing a cherished space for generations of new co-opers.
While the Zooo has survived and thrived, most of the co-op's attempts to expand beyond the Zooo between 2004-2014 were unsuccessful, with additional houses lasting a year or two at most. For years, the co-op's long-standing dream of expanding to more houses seemed beyond reach.
In the fall of 2015, MOSAIC's second house, the Treehouse, opened its doors to its first generation of co-opers! Located at 1427 Elmwood Avenue, the Treehouse now has its own thriving community in addition to that of the Zooo.
Principles, purpose, and aspirations:
MOSAIC strives to be an inclusive, creative, sustainable, empowering, and cooperative community. A key aspect of inclusivity is providing affordable housing in an area where housing is expensive and unaffordable for many Northwestern students and others in the community. Sustainability is practiced by omitting meat from purchased common food and making house meals, practicing composting, and purchasing minimally processed foods. An empowering community is created by activities at weekly house meetings which serve to foster interpersonal relationships and mutual support. Cooperation is promoted via our administrative, meal, and cleaning structures. Because we believe the lifestyle provided by our co-op's principles yields a diversity of benefits not only for the co-op's members, but the community and world at large, we seek to expand our co-op to provide this living environment for a greater number of people in our community.
Mission Statement:
Through cooperative action, MOSAIC seeks to develop a diverse, inclusive community that inspires and empowers creative, conscious, sustainable living.
Type of Housing Offered:
Single rooms, Double rooms
Wheelchair Accessible:
No
Approximate Monthly Rent Including Utilities:
$576-790
Approximate Monthly Cost of Meal Plan if Applicable:
$70-121
Labor Requirements:
Chores are assigned hourly amounts and each member is responsible for doing five hours weekly in addition to rotationally assigned dish nights and bathroom cleans.
Shared Amenities:
Communal spaces, Shared kitchen, Shared tools, Recreational area, Parking, Bike storage, Washer and dryer, Wireless internet
Frequency of Shared Meals:
Approximately all meals