Submitted by

morgan

on Wed, 07/02/2014 - 5:06pm
As development continues to sweep through Dinkytown - the Minneapolis neighborhood surrounding the University of Minnesota - it is becoming more and more apparent that there are too few options for U of M students to buy fresh veggies in Dinkytown.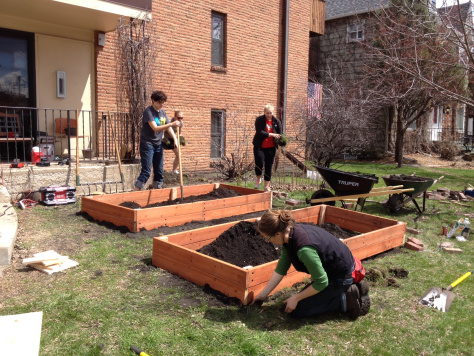 Luckily the Boards of Directors of both the Chateau and Marshall Student Housing Cooperatives, member coops of Riverton Community Housing, move efficiently and dynamically to address the needs of their members. As such, both coops have developed innovative designs to affordably begin their own community gardens.
By forming a partnership with Stone's Throw Urban Farm, a member of a local producer's cooperative, we were able to develop a series of Gardening Workshops as we anxiously awaited the end of winter.

After several gardening workshops (pictured above) residents were ready to get their hands dirty.
Using nearly all re-purposed materials including shipping pallets from the luxury construction site next door, an abandoned futon from an old resident, left over window screens, and lumber from an old playground we designed and built the beds in this photgraph (below). 
The Chateau's Urban Garden (also below) is the first rooftop garden in Dinkytown. As such 100% of its water is collected in rain barrels, preventing storm water run-off, which in turn reduces the amount of pollution entering the Mississippi River that flows right through Dinkytown.
In order to keep our crops happy and healthy we created a Garden Coordinator position to organize volunteers and a Garden Treasurer to distribute the veggies and keep the project financially viable. Through our pooled resources we will be able to sell our produce within the cooperative far below market value – proving yet again the cooperative model is adept at serving the needs of its community.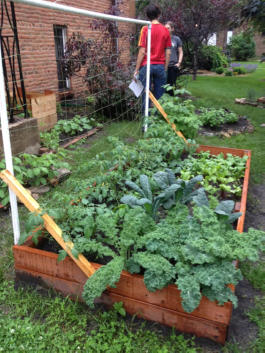 This year our gardens are in their infancy. For the time being we're concentrating on providing fresh, organic veggies for our members, but our goals are lofty – in the next few years we hope to establish a farm stand to sell our produce to the public. 
Kit Fordham is Manager of Cooperative Services for Riverton Community Housing in Minneapolis, MN and a member of the NASCO Board of Directors.