Submitted by

Bronwyn

on Mon, 06/14/2021 - 9:19am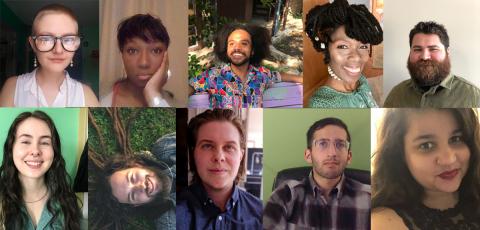 Please join us in welcoming the newest members of the NASCO Board of Directors and the NASCO Properties Board of Directors. NASCO's dedicated Directors help us remain responsive to the needs of the co-op movement as we continue to provide resources, direct assistance, and connection to the North American cooperative sector. Pictured from left to right, top to bottom:
Emily Tyler
NASCO Board
Emily's experience with the cooperative movement began when she moved into Toad Lane house of the MSU Student Housing Cooperative in East Lansing, Michigan in December of 2017. Since August 2018, she has called Vesta haus home. Emily joined the co-op as a student, and graduated from Michigan State University in May 2019 with a bachelor's degree in English. In her time as a member-owner of the SHC, she has served in several capacities, including house membership officer, house education officer, officer laborer, and currently the Vice President of Education and concurrently the Executive Vice President of the co-op. She loves reading and writing and spending time with her housemates. Emily looks forward to her service on the NASCO Board of Directors and is eager to see what's to come!
Naomi Alexis
NASCO Board
Naomi is a 39 year-old native New Yorker, mother, doula, and a founding member of It Takes a City, a hybrid child and elderly care cooperative which is looking to add housing to their mission. Naomi is looking for ways to build a future for our children and a present that allows us to make that a possibility. 
Jonathan Arrmstrong
NASCO Board
¡Hola! My name is Jonathan Armstrong (Any Pronouns), I live in Austin, Texas, and I have been a member of College Houses Cooperatives for over two years. I graduated from the University of Texas at Austin with a B.A. in International Relations/Global Studies and Government, with a minor in History. My research concentration focused primarily on International Security and Human Rights Movements in Latin America during the Cold War Era. I am deeply inspired by the amount support cooperatives have been able to provide in the region, and I am incredibly passionate about keeping the cooperative movement alive today!  More than anything else, I am hoping to use the knowledge, skills, and lived experiences I have cultivated to assist the NASCO Board of Directors with its commitment to anti-oppression work.
Teen Lorie Harris
NASCO Board
Teena Lorie Harris is a third generation Chicagoan. She is a proud product of Chicago public housing and Chicago public school. She has an extraordinary passion for housing, with the conviction of housing is a human right. She believes everyone deserves to have affordable, safe, and well placed housing. She has served in many capacities as an asset manager, real estate broker, portfolio manager, property manager, operations director, and much more. She has a background working in commercial, retail, and residential real estate industries. She currently serves as the Director of Operations for Qumbya Housing Coop and Lots In Common (LINC). She also sits on the board of LINC serving as the secretary.
Ben Lee
NASCO Properties Board
Ben is an Americorps Vista volunteer with Niagara Area Habitat for Humanity. After getting a graduate degree in urban planning and development from Cleveland State University, he decided to decamp for a different city and make an impact with a community-minded organization. Seeing as Americorps pays very little, he chose to move into Ol' Wondermoth, a house owned by Nickel City Housing Cooperative. Now, he's serving as their NASCO representative and actually learning how to cook decent meals!
Maggie O'Connor
NASCO Board
Hey everyone! I'm Maggie (they) and I'm a 6th year co-oper at ICC Ann Arbor new to the NASCO board. I grew up in Alpena, MI before moving down to Ann Arbor for school where I studied German and psychology. I have two adorable rats (Clover and Ivy) who bring me immense joy on a daily basis. I love bonfires, river hangs, general shenanigans, and talking all things co-op with anyone who will listen.
Erik Haney
NASCO Properties Board
Erik is a 30 year old artist who has been working with coops for almost 4 years. His true love is a big orange fluffy cat named Garth, after Waynes world fame. When the pandemic is over he hopes to get back to selling his jewelry at shows and playing D&D with his friends.
Lee Pepper
NASCO Board
Lee Pepper is Communications Co-ordinator at the Co-operative Housing Federation of Canada, which represents and serves over 900 housing co-ops across Canada. They are active in their home of Ottawa, Ontario, on issues of affordable housing and 2SLGBTQ+ justice. They're excited to get to know NASCO and its members.
Christian Vieweg
NASCO Properties Board
Christian became interested in co-ops during a brief stay with ICC Ann Arbor in 2016. Today, he is a member of Community of Urbana Cooperative Housing (COUCH), where he is active in leadership, and as the COUCH representative to NASCO Properties Board, serving additionally as the NASCO Properties representative to the NASCO Planning Committee. Christian believes that the cooperative sector has a valuable role to play in affecting social and economic change and seeks to encourage its expansion. A current law student, he is interested in legal questions relating to the cooperative sector, and how the law may be leveraged on behalf of cooperatives.
Nastassja Baté-Bild
NASCO Board
Nastassja' cooperative journey began as a child attending the Circle Pines Center's summer camp. She became enamored by the model of collective structure. Nas is an educator working with diverse learners at Chicago Public Schools. Their favorite ice cream is Ben and Jerry's New York Super fudge chunk. 
Interested in joining the NASCO board? Learn more here.