Submitted by

Bronwyn

on Tue, 11/10/2020 - 11:37am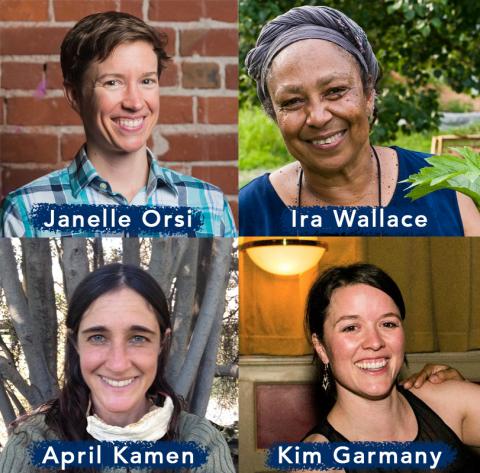 On Friday, November 6, 2020 at NASCO Institute online, four cooperators were honored as inductees in the NASCO Cooperative Hall of Fame. The NASCO Hall of Fame, created in 1989, provides broader recognition to individuals who have made a truly significant impact within the cooperative movement. NASCO is proud to honor the 2020 inductees:
Janelle Orsi, Leader

Janelle Orsi is a cartoonist, lawyer, advocate, and writer focused on cooperatives, land trusts, sustainable agriculture, community-owned energy, shared housing, and the creation of a more just and equitable society. She co-founded and works for Sustainable Economies Law Center. Right now, she is deeply involved in 1) crafting legal structures to permanently remove land and housing from the speculative market (check out the Radical Real Estate Law School), 2) creating tools and organizing people to channel investments, especially retirement savings, away from Wall Street and into our local communities (check out TheNextEgg.org), and 3) creating cartoony legal education resources so that everyone can understand cooperative governance and finances.

April Kamen, Local Hero

April has lived in and worked for co-ops on Patwin land in Davis, California, for the last fifteen years. She began learning about cooperatives as a member of the Davis Food Co-op in 2000, where she worked for ten years and also served on the board of directors. April is currently General Manager for Solar Community Housing Association and has worked with SCHA through three cooperative housing expansions that grew the organization from fifteen members in 2010 to nearly ninety members at full occupancy. April enjoys making spreadsheets about co-op functions and is inspired by members' efforts to co-create socially just and empowered communities.

Ira Wallace, Founder

Ira Wallace has a lifetime of history in the cooperative movement. Ira has been a member of Acorn Community since the beginning of the community and was instrumental to its founding. Acorn is a 27-year-long experiment in egalitarianism based on living cooperatively with each other and the environment in a non-hierarchal fashion, located on 72 acres of certified organic land in Central Virginia. Ira is also a prime mover and shaker behind Southern Exposure Seed Exchange (SESE), a worker-coop seed company owned by Acorn that specializes in preserving and propagating heirloom seeds by getting the seeds and practice of seed saving into generations of future gardeners. Ira started saving herb and flower seeds in the 1970s and became professionally involved in the seed business in 1998. At SESE she coordinates education and outreach as well as co-managing variety selection and new seed grower contracts with SESE's network of 70+ seed producing farms. It is the oldest company in the southeast focusing on heirloom, organic, open-pollinated seeds. Since 1983 Southern Exposure has been helping people in the southeast get control of their food supply by supporting sustainable home and market gardening, seed saving, and preserving heirloom varieties. Ira also started the Heritage Harvest Festival in a back lot at Monticello 12 years ago and worked to grow it to a premier celebration of a vision of America of small farmers and gardeners.

Kim Garmany, Leader

Kimberly Garmany currently serves as the Executive Director at College Houses, a group equity non-profit cooperative student housing organization that serves 532 members in Austin, TX. It was during Kim's time as a student co-oper at College Houses that she discovered and fell in love with the versatility and benefits of the cooperative business model. While earning her Master's degree in Organizational Leadership & Ethics, Kim served as the Development Officer on the North American Students of Cooperation's board of directors. In 2012, Kim's term ended on the NASCO board and she joined a local effort that was already in motion called the Austin Co-op Think Tank, which began as a cross-sector discussion and action group focused on creating more opportunities for cooperation among co-ops in Austin. Kim is a founding board member of the Austin Cooperative Businesses Association and for the past five years, Kim has served as a Director for NCBA CLUSA where she aims to bring the youth perspective to the table and connect the group equity housing co-op movement to other cooperative sectors. Kim has served as the College Houses representative on the NASCO Development Services Board for 3 years and she currently serves as the Board Chair for NDS. Kim sees herself as a life-long student of cooperation.