Submitted by

Bronwyn

on Fri, 05/21/2021 - 2:25pm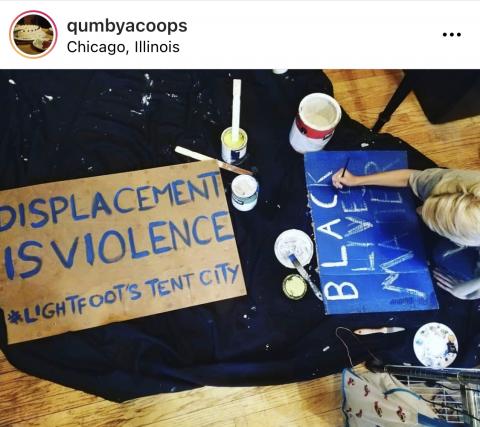 May 25, 2021 marks one year since George Floyd's murder. Over the last year, NASCO housing co-ops have stood firmly in solidarity with local and global movements for racial justice, economic transformation, and community care. Some co-ops have participated in direct action to end the pattern of unjust, abusive, and racist policing, some have contributed to mutual aid work to support their Black members and community members, and some have prioritized building safer spaces within their own homes by identifying and developing alternatives to calling police and by prioritizing anti-racist culture.
Alongside local efforts, NASCO has identified ways in which our work with housing cooperatives now and in the future can have an impact, including:  
Establish a culture where uncomfortable but necessary and healthy conversations about race are supported
Set educational standards around anti-racism across our movement
Create opportunities for majority-white organizations to engage in equity-building activities and encourage them to use their financial resources to support BIPOC-led cooperatives
Provide housing co-ops with resources to do development without displacement while leading conversations to help co-ops identify their relationships with displacement
Educate communities about how the cooperative model can be used to achieve collective liberation
Some of that ways that we've focused this impact in the past year include:
Providing Black Equity Scholarships to the majority of our Cooperative Leadership Certification cohort and ensuring that funding for future scholarships is solidified in our budget
Offering workshops on Building Community Agreements with our member co-ops that center around creating safe, accessible, and equitable living situations for members
Including an explicitly anti-oppressive lens when building new educational content for cooperative skills, leadership development, and technical assistance
Including an assessment of demographic representation and non-discriminatory membershippinig practices in the Cooperative Health Assessments we conduct with member co-ops
Leading co-ops in conversations to consider the cumulative impact of their policies and practices, and how these may lead to unintended barriers to long-term membership or leadership for Black members
Providing anti-oppression training at NASCO Institute
Establishing a Black co-op members caucus
Uplifting Black stories, Black-led cooperative projects, and the work of Black organizers within the solidarity economy
As we reflect on this past year, we are called to center Black leadership, community care, and mutual aid. We are called upon to loudly proclaim that Black Lives Matter, that Black voices matter, and that a cooperative must be both accessible to Black members and support its Black members and community members in this time to call itself a cooperative. Our principles of Open Membership and Concern for Community compel us to do so. We call on cooperative members, staff, leaders, and supporters to join us in that work as we stand in allyship with social and economic justice movements across the globe and continue to shape the cooperative movement together.