Submitted by

Ratih

on Wed, 11/08/2017 - 4:31pm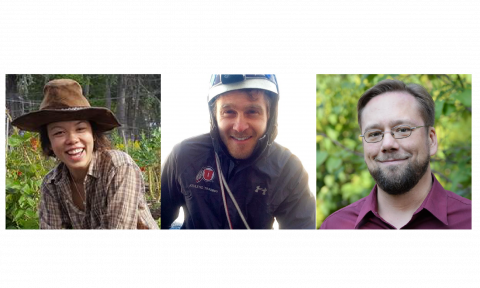 The NASCO Cooperative Hall of Fame, created in 1989, honors the best of our movement.  We use the Hall of Fame as a means for NASCO member co-ops to provide broader recognition to individuals who have made a truly significant impact. This year, a committee of former Hall of Fame inductees and current NASCO board members selected three individuals to join the Hall of Fame:
Kaitlin Oki
Mover & Shaker
When you ask a Pierce Co-op member about their involvement with Solar Community Housing Association (SCHA), it is likely they will tell you that is was Kaitlin's extraordinary dedication that inspired them to make time in their busy schedules for SCHA Committee work. During a critical point for the SCHA, Kaitlin played a vital role in liaising between the Tri Co-ops and the SCHA, supporting staff, and designing systems for the newly expanded organization. Following the co-expansion, Kaitlin continued to be very actively engaged with SCHA committees and the board. Kaitlin is a leader by example, and her initiation and facilitation skills have contributed to the community's overall cohesiveness and ability to work through conflict over the years. Kaitlin recently became a partner at Cloverleaf Farm in Davis, and is in the process of converting the partnership to a worker-owner cooperative– a project that has been very much inspired and informed by her experiences with SCHA). Kaitlin's passion for cooperatives and enormous potential to contribute to the larger cooperative movement make us thrilled to induct her into the NASCO Hall of Fame as a Mover & Shaker.
Ian Girard
Founder
In 2012, Ian Girard bought an abandoned, ramshackle house where today the only cooperative in the Upper Peninsula of Michigan still is making constant strides to be living examples of cooperative and sustainable living. Aside from physically building the space, Ian helped build the community that is the Marquette Climbers' Co-op. It is a community where members work as a team to do everything from tending to a pollinator and vegetable garden together, to sculpting a rocket-mass heater, to climbing on their indoor bouldering wall local climbers. Since Ian helped found the co-op, he has moved to Utah, but nevertheless continues to provide mentorship as a resource for members from half a country away. Advising Marquette Climbers' Co-op members on transitioning the house into a legally recognized and lawful incorporated cooperative has inspired Ian to enroll in law school to represent other cooperatives and similar progressive projects in the future. The results of Ian's work and continuous dedication to the cooperative movement makes us very excited to induct Ian into the NASCO Hall of Fame as a Founder.
Mark Fick
Leader
Mark Fick began working with cooperatives in 1991 when he formed a recycling collective on his college campus. A few years later in Madison, WI he dove head-first into the world of cooperative economics by becoming an active leader and member with Rainbow Bookstore, the MadisonHOURS local currency cooperative, and the Ofek Shalom housing cooperative. He moved to Chicago, IL in 1997 to help form the Stone Soup housing cooperative, a place for activism, joy, and justice. This 'spare-time' work became a professional career in 2003 when he was hired as Associate Director of the Chicago Mutual Housing Network and again in 2005 when he became Senior Loan Officer at Chicago Community Loan Fund, providing financing to cooperatives throughout the Chicago region. More recently Mark joined the team at Shared Capital Cooperative as Director of Lending where he continues to focus on creating a democratic and equitable economy through cooperatively owned and operated enterprises across the United States. Mark Fick has been the go-to person for cooperatives in Illinois, Minnesota, and Wisconsin over the past 25 years, and we could not be more proud to induct Mark into the NASCO Hall of Fame as a Leader.