Submitted by

Bronwyn

on Mon, 03/13/2023 - 2:13pm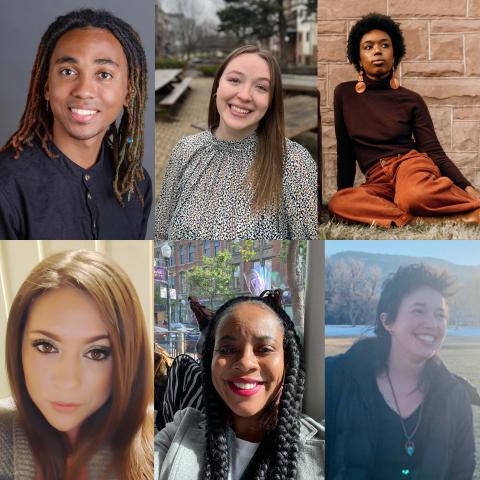 Please join us in welcoming our newest Cooperative Leadership Cohort! Our cohort will be spending the upcoming year developing cooperative leadership skills, designing and implementing leadership initiatives in their home communities, and supporting each other through shared challenges. Learn more about our leaders below (pictured in order):
Aaron Woods
I am Aaron Woods, use (he/they) pronouns. I began my co-op journey in Madison, Wisconsin and Minneapolis, where I came to realize the importance of community care. In 2021, I joined the ICC Austin housing cooperative, Helios, where I served as the board chair during an important time for the organization. I currently reside in Pink Palace, a co-op that provides a home and community for black and brown creatives. I am also pursuing a PhD in Biomedical Engineering, using technology to explore the brain. I play the ukulele, guitar, and other instruments. Science and Art to me are just avenues to make life meaningful through love and awareness. I believe that cooperatives are an effective way to push against the hyper-individualistic nature of our society. I am excited to be part of the cooperative movement and see where it leads me.
Erin Larmondin
Erin Larmondin (she/her) is a recent graduate of the University of Waterloo and has been an active member of WCRI since 2018. After completing a placement as a Community Engagement and Cooperative Development Intern through the NASCO Internship Network, Erin stepped into a permanent position as the Community Engagement Coordinator at WCRI in August 2022
With a passion for a more sustainable, affordable, and accessible housing environment, Erin was drawn to cooperative housing and their model of creating community-based housing that focuses on member interaction and community involvement. Outside of the coop, Erin enjoys traveling, learning new recipes, and taking her dog Bonnie on long walks.
Jada Fulcher
Jada Fulcher (She/They) is a writer and journalist in Urbana, IL.  They are the Editor-in-Chief of the queer newsletter The Lavender, and she is in her second year of living in Urbana-Champaign's COUCH coops. 
Jammie De Melo
I have seven years of housing co-operative experience and four years of student housing co-operative experience as well as a degree in social work. I am currently the facilities manager for Waterloo Co-operative residence inc.
I have made wonderful memories throughout the years in the co-op sector and I look forward to bringing my passion for this community to the 2023 co-operative leadership program. My goal is to focus on the need for mental health supports within student housing co-operatives.
Juhandryn Dessames
Juhandryn Dessames is an amazing performing artist, educator, mother, consultant, and finance/accounting professional. She received her BA from California State University East Bay in Liberal Arts emphasis in Accounting, and minored in Dance/Theater.  With over 30 years of performance experience, Ms. Dessames is a founding member of the Lyric Dance and Vocal Ensemble and the Lyric Performing Arts Academy. She is also a performing member of the After Shock Dance Company.  As an actress, she was in the original cast of "Go Tell It! A Harriet Tubman Escape Story is performed annually for Bay Area Communities. 
As an educator, Juhandryn has worked in East Bay Area schools teaching dance and youth development for over 15 years.   Ms. Dessames, affectionately known to her students as Ms.Je' has taught dance for several organizations including Stanford University, California State University East Bay and the Oakland YMCA. Additionally, Juhandryn has more than 20 years of financial consulting and non-profit management experience. In her spare time, she co-facilitates workshops around the history and resolution of racism. Juhandryn is an Oakland native committed to community service and youth development.
Lily Kapiloff
Lily Kapiloff (she/they) is the Director of Development for Boulder Housing Coalition. She hails from the Western Foothills of rural Maine where she grew up chasing frogs and campaigning for animal rights. After ten years of traveling and picking up bits and pieces of traditional and non-traditional education, she relocated to Boulder to finish her undergraduate degree at Naropa and join the Ostara Cooperative in January 2019. She is passionate about Nonviolent Communication, permaculture, contra dancing, and playing melodramatic 80's ballads on the piano. She is currently working on her masters degree in ecopsychology.