Submitted by

Ratih

on Tue, 09/04/2018 - 4:30pm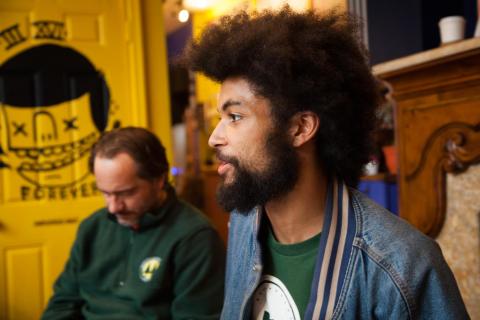 As summer comes to an end, Corrigan Nadon-Nichols, our Director of Development, is stepping down from his position. During his five years on staff, Corrigan has made some enormous contributions to NASCO. He will surely be missed! However, he won't be going far as he is moving on to exciting opportunities in the local Chicago cooperative movement. Supporting our staff as well as members to grow and evolve is part of our work at NASCO. We are sad to say goodbye to Corrigan, and we wish him happiness and success!
We are also welcoming new energy to NASCO! Brel Hutton-Okpalaeke has joined NASCO staff as our Director of Development Services. Brel began their co-op journey in 2014 in Madison, Wisconsin as a member of Madison Community Cooperative, Madison Area Cooperative Housing Alliance, and the United People of Color Caucus. In their free time, Brel teaches at and serves on the board of the Madison Freewheel Bicycle Co. and is in the process of converting it to a worker-owned co-op. Brel sees cooperatives as one of the best ways to affect social change and actively fight gentrification and extractive economic practices. Brel strives to make sure that people of color in cooperatives are represented, supported, and respected by our co-ops. Brel believes in strategic, continual expansion of the co-op sector because we can change the world for the better with these things! Brel has served on all three NASCO Family Boards and is the staff liaison to the NASCO Development Services board.
Brel is very excited to join the NASCO Staff Collective and to get to work continuing to support and expand our efforts in coop development!