Co-op Details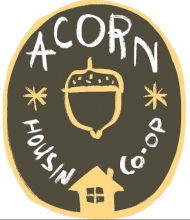 acornhousingcoop@gmail.com
Basic Info:
A group of young people working on social justice projects together in Northfield has existed in some form since 2014. We mostly consisted of people local to Northfield until the summer of 2017 when a UMN student moved to Northfield to work on the farming project. At that point, we started a non-profit, Cooperation Northfield, to embody our projects, including a farming worker co-op, a youth organizing project, and a budding compost collection worker co-op. We called ourselves the Collective, and our membership began to include students from the two local colleges, but the lack of affordable housing in Northfield kept the non-local, non-student population to one or two at any given time. In early 2019, the opportunity arose to purchase a triplex that two Collective members lived in already. We quickly recognized the value owning a multi-unit house would add to our collective and began researching how we would pay for and fill the house. A founding Collective member had access to generational wealth, allowing us to get a low-interest loan in a short amount of time, and in June 2019 we closed on Acorn.
From the beginning, the purpose of the house was clearly understood to be offering affordable, democratic housing to organizers and activists working on Co-op Northfield projects. Acorn meant we could attract organizers with specific skills and passions to Northfield and be able to assure them cheap housing for their time here. As we continued to live together, we also saw the immense value in having a centralized location to run our projects from and in having a shared social space. Living at Acorn meant we grew closer emotionally and socially as a collective, gave us practice living the democratic values we shared, forced us to develop conflict resolution skills and increased our capacity to grow in size, all of which continue to strengthen us as a collective of organizers. We see this as the most valuable impact Acorn has had on us as a collective, going well beyond just offering affordable housing.
We've existed for about 18 months at this point, and half of that has been during the pandemic. It's hard to know what would have happened to our projects if we hadn't had Acorn to base them out of, but certainly we as Collective members wouldn't have strengthened our bonds as much as we have by living together. With Acorn, we have only grown closer and stronger through this crisis, amplifying the value of the house.
We occasionally receive new applications to Acorn, and each one presents an invaluable opportunity to grow the breadth and depth of our collective. We have taken on the project of increasing our housing capacity as we've come to understand the benefits of living together. Cooperation Northfield always had great potential, but the creation of Acorn opened up new paths of growth for the Collective and continues to nourish us as a cadre or organizers.
Mission Statement:
To provide affordable, democratic housing for activists and organizers in Northfield, Minnesota.
Type of Housing Offered:
Single rooms, Double rooms
Wheelchair Accessible:
no
Approximate Monthly Rent Including Utilities:
$300
Approximate Monthly Cost of Meal Plan if Applicable:
no meal plan
Labor Requirements:
Each member of the co-op is required to partake in at least one house committee. We do not have a specific labor hours requirement at this time, but are still working out our mechanisms for ensuring equitable divisions of labor, so may add that if we see fit.
Shared Amenities:
Communal spaces, Garden, Shared tools, Recreational area, Parking, Bike storage, Wireless internet
Frequency of Shared Meals:
It ranges from at minimum once or twice a month to several times a week