Co-op Details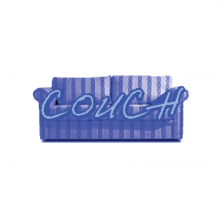 Basic Info:
In the late 1990s, a group of rental co-ops in Urbana-Champaign organized a development corporation for the purpose of buying property. After a long search, they located a rooming house to purchase but could not convince lenders to finance the project. They requested assistance from NASCO Properties, which purchased the building in 2000 with the help of a loan from the National Cooperative Bank.
Later that year, another rooming house was offered to COUCH at a very reasonable price, and NASCO Properties again assisted with the purchase. This time the acquisition was financed through a local bank.
COUCH is now Brooks House (named for the poet Gwendolyn Brooks) and Harvest house. Together we strive to develop and manage a diverse network of inclusive, non-profit, member-controlled, co-operative homes for the people of Champaign-Urbana; to educate our membership and community on the principles and practices of co-operation; and to build and maintain connections among local co-operatives and community-minded organizations, within the context of the global co-operative movement.
An excerpt from the intro to our bylaws reads:
""Residential neighborhoods in Urbana-Champaign, especially those near the University of Illinois campus, are being destroyed by landlords whose philosophy is to fit as many units as they can onto small pieces of property, and who wastefully allow large, well-constructed historic houses to deteriorate, to make way for cheap, tacky apartment complexes. Structures in which people can live in community and with family and share resources are replaced by structures in which each resident lives in an isolated unit and nothing is shared. ""
We serve as an alternative to the apartment complexes and converted houses that dominate this college town, one oriented around community and cooperation. Our membership is largely undergraduate and graduate students affiliated with the University of Illinois, but we also consistently have a group of locals and working non-students as well. We are looking into how we can better serve non-students as well.
Mission Statement:
Manage co-operative homes, educate on the principles and practices of cooperation, and collaborate with community organizations in Champaign-Urbana.
Type of Housing Offered:
Single rooms, Double rooms, Shared rooms with 3 or more people
Approximate Monthly Rent Including Utilities:
$390-600
Approximate Monthly Cost of Meal Plan if Applicable:
$200
Labor Requirements:
People are expected to contribute ~5-6 hours per week split between meetings, coordinator positions, and cooking.
Shared Amenities:
Communal spaces, Shared kitchen, Garden, Workshop, Shared tools, Recreational area, Parking, Bike storage, Washer and dryer, Wireless internet
Frequency of Shared Meals:
6 times a week